Scholarship Program
Most rural parents educate their children until Class 8 without much trouble. It is beyond this stage that many students tend to drop out either due to financial constraints in the family or disinterest in pursuing studies, or a combination of both factors. Aspire Foundation's scholarship program handpicks these students who have completed Class 8, based on their economic backwardness and consistency in academics. The program aims to improveeducation quality and equips students to take informed decisions about their higher education and career. For 4 years until they complete Class 12, Aspire Foundation scholars are exposed to a comprehensive package of inputs which helps build their confidence and skills. Most Aspire scholars go on to complete under-graduation and some even post-graduation.
Financial Support
Each student is provided with notebooks, reference books, stationery, bag, school fee, tuition fee, exam fee and uniforms every year, based on his or her requirement.
Skill Development Programs
Skill Development Programs (SDPs) programs provide students the opportunity to identify, exhibit and foster life skills, as well as realize their strengths & weaknesses. Our SDPsfocus on the following broad concepts:
Communication
Logical reasoning
Quantitative ability
Managerial ability
Creativity
Comprehension
Subject knowledge
A set of activities is designed for each concept. Each SDP usually consists of 4 sessions, each session comprising activities related to a particular concept. Most activities are conducted in groups while some activities are expected to be done by each student individually.
A lot of attention is given to ensure that each group has a mix of children with varying levels of aptitude. This is done so that children who can grasp concepts quickly teach their peers how to approach the problem. Therefore, to start with, no group is at an unfair advantage.
Also, we ensure that unlike school, an atmosphere is created for girls and boys to interact freely with each other.
Each SDP batch covers about 25 students.
In an academic year, 7 to 8 SDPs are conducted for each batch.
Field Trips and Excursion
Field Trips
Field trips are one-day trips which provide students an opportunity to relate subject knowledge with how things work in real life.
Resource persons from the concerned field interact with the students, explaining the working of systems/processes.
At the end of each field trip, students divide themselves into groups and conduct a quiz to assess the extent of information they have understood. They also prepare a report on their learning and opinions.
Students are taken in batches of 20 for these trips.
Some of the places where we've taken students on field trips so far are below.
Vaigai Dam, Madurai – understanding electricity generation from water & watershed development
AnthyodayaSangh herbarium, Trichy – uses and conservation of medicinal plants
Anna Planetarium, Trichy – understanding the solar system
Harbour, Tuticorin
Sothuparai Dam &Suruli Waterfall, Theni – trekking
Tea Estate, Munnar – experiencing tea planting & processing methods
Garnet Factory, Tuticorin
GD Naidu Museum, Coimbatore
Tamil Nadu Agricultural University, Coimbatore – botanical species in Tamil Nadu
Solar Observatory, Kodaikanal
TV & Radio Power Station, Kodaikanal
Sholai School, Kodaikanal – a self-sustained alternative school
Aavin Dairy Limited, Erode & Madurai – dairy products and processing methods
Coco-Cola Bottling Plant, Sriperumpudur, Chennai
Parle-G Biscuit Factory, Madurai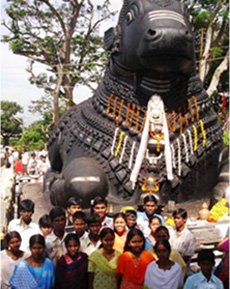 Excursion
The annual 2-day excursion is something that all our students look forward to.
Mostly, excursion venues chosen are outside Tamil Nadu, which children would otherwise not get an opportunity to visit.
All students are taken together for the excursion.
So far, our students have gone on excursion to the following places.

Nagercoil, Kanyakumari& Trivandrum
Mysore and Bangalore
Ooty and Coonoor
Pollachi and Cochin
Palghat and Kumarakom
Chennai
Computer Education and Spoken English
Computer classes
Since the use of computers has become so widespread and essential in order to communicate, design and execute work, our students are provided basic computer education.Trained faculty members conduct classes in MS Office and internet usage with periodic practical tests. Aspire Foundation provides students with bi-lingual reference guides that its team has created.
Spoken English classes

English as a medium of instruction and language of communication is gaining increasing prominence worldwide and in India. Functional knowledge of English has become increasingly important to avail opportunities for higher education & employment. Students are given the opportunity to participate in Spoken English classes, which encourage them to engage in conversations with their peers in English besides clarifying basic grammar rules.
Workshops
Science Workshop
Science workshops enable students to question and understand phenomenon which they observe in daily life. Examples of daily life phenomenon

How does mosquito fog help get rid of the mosquito menace?
Why do appalams splutter when you drop them in hot oil?
Why does an egg float in salt water but sink in plain water?

These workshops also help simplify science concepts learnt in school through simple experiments.
Examples of science concepts

Light travels in a straight line
The 'Big Bang' theory of evolution
Health Awareness Programs
Health programs of various kinds are conducted in collaboration with local hospitals and St. John's Ambulance:
Awareness on preventive health measures, nutrition & hygiene and important diseases & treatment
First aid awareness programs in collaboration with St. John's Ambulance
Counseling on adolescent health and related concerns
Legal Awareness Program
This program generates in students awareness on rights& responsibilities of children, the Indian Constitution and the history of Indian law. We collaborate withthe Judicial Magistrate & lawyers for this program. This program alsoencourages students to exercise voting rights through ballot system, form children's parliaments, frame rules and make decisions.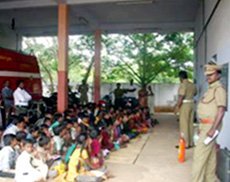 Fire Safety Awareness Program
Students understand the importance of fire safety through this program which is conducted in collaboration with the Tamil Nadu Fire Service Department. Students are taught to use fire extinguishers and other fire safety equipment for rescue operations. They are also taught to administer first aid to victims of burn injuries through demonstrations and mock drills.
Exam Preparation Workshop
A resource team of experienced teachers of science, math, English and Tamil from Government HigherSecondary Schools conduct this program every year for our students attending Board examinations. This team gives students
valuable hints and tips on the art of selecting and answering questions which will help studentsscore marks well. The team also provides reference material and clarifies students'doubts.
Career Guidance Program
Career guidanceprograms are conducted for students in Std. 10 and above on discovering aptitude andshort & long-term goal setting. Information on common and uncommon UG & PG courses, institutes and job opportunities is also provided.
Events
Sports Meet
Twice a year, Sports Meets are held. Thepreliminary rounds ensureparticipation of all interested children and result in screening a limited number for the final rounds. Events include outdoor sports like cricket, football, badminton, kabadi, kho-kho, athletics &tennecoit and indoor sports such as chess and carom. We take special efforts to encourage participation by girls.
Cultural Program
An annual cultural program is held every year to encourage students to exhibit their talents. Individual events usually include singing, dance, oration and mimicry. The most
popular group event is dance – where children dance to popular cinema hits and also perform traditional folk forms such as karakaattam, mayilaattam and kolaattam. Children also enjoy putting up short skits and dramas. Besides, traditional competitions such as making Sakkara pongal, pot breaking (uriadi), rangoli, etc. are also held.
Camps
Students are encouraged to participate in residential social service camps inother villagesin their vicinity. These projects instil in students the realization that no matter how economically backward one may be, everyone has something to contribute. Students undertake projects such as school campus cleaning, tree planting, etc. and sensitize the villagers on the importance of environmental sanitation and education.
Parents' Meetings
Parents' involvement in their children's education is critical for effective intervention in education. Most parents in our target area have not completed schooling themselves and hence, may not understand the importance of quality education. We organize meetings with parents thrice a year. The aim of these meetings is to:
Exhort parents to engage in their child's education – monitor the time spent on studies, academic progress and extra-curricular activities, visit the school and speak with teachers
Brief parents about their children's interests, participation progress in Aspire Foundations' programs and elicit their co-operation in ensuring regular participation
Be aware of the support their children are receiving from Aspire Foundation