Success Stories
Since inception, 378 students have benefitted from Aspire Foundation's scholarship program. Over 90 alumni are either pursuing a diploma, under-graduation or post-graduation course and 5 alumni are working in the IT sector, accounting, administration, manufacturing sector and business. Here's what some of our alumni are doing.
Loganathan - An aspiring researcher
Loganathan belongs to Jeyanayakkanpatti village in Dindigul. His father is a small farmer. His mother has been unable to work and is mentally ill. He is the youngest of 3 sons, 2 of who dropped out of school before completing Class. 8. Loganathan joined Aspire Foundation's scholarship program in Class 11 as a shy, reclusive but motivated youngster. He made it a point to participate in all Skill Development Programs and Field Trips, excelling especially in logical reasoning and problem solving activities. He says, "Aspire's skill development classes helped me a lot in preparing for competitive exams and taught me how to handle situations in life". After completing school, he worked for a year to save up for college. With partial support from AF, he went on to complete B.Sc. and M.Sc. Chemistry from American College, Madurai, thus earning the distinction of being the first post graduate from his village. He aspires to be a researcher in organic Chemistry.
Prasad - An IT Expert
Prasad has been with us since Class 10. Hailing from Settiapatti, near Kodaikanal Road, Prasad had a difficult childhood. His father's chronic illness disqualified him from working and his mother had never worked before. This pulled the family into a rut, from which they were struggling to escape and move on. Prasad also has an older sister. When selected into AF's scholarship program, Prasad showed a lot of promise. His communication skills developed really well and he gained immense confidence. Today, Prasad has completed B.Sc. & M.Sc. IT at Sourashtra College, Madurai with part financial support from AF. He is currently working at a private firm in Guindy, Chennai.
Thulasi - An aspiring auditor
Thulasi - Amidst a society which expects women to be seen but not to be heard, Thulasi's enthusiasm and intelligence stand out. Her father, working as a conductor in a private bus service, was the sole breadwinner in the family. Thulasi's older sister did not pursue studies beyond Class 10. Thulasi's father found it difficult to educate his 3 daughters. Thulasi's keen interest and situation got her enrolled into AF's scholarship program in Class 11. Her skills in debating & public speaking improved and she especially enjoyed participating in every single field trip.Thulasi cherishes her field trip experiences and is thankful to Aspire Foundation for providing career guidance, which was very useful for her to identify her aptitude and opt for B. Com. Thulasi completed B. Com. and worked for a year in a private company. She is now pursuing Chartered Accountancy towards her dream of becoming an auditor.
Gomathi - an aspiring teacher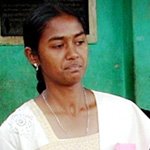 A vibrant girl with a friendly smile, Gomathi enrolled in AF's scholarship program in Class 10. Gomathi's father works in a grocery shop in Nilakottai and her mother works as a helper in a local Government balwadi. The youngest among 3 siblings, Gomathi always had to struggle to get her wishes fulfilled, since her family income was meagre. Gomathi excelled in AF's cultural programs and her communication skills and creativity grew remarkably with successive skill development programs. Gomathi is also a talented district level football player and a graceful dancer. In Gomathi's words, "Aspire Foundation encouraged me to express my views confidently. I am also proud that I won the prize for best dancer in the cultural event during 3 consecutive years." Gomathi completed B.Sc. Physics and is currently doing Bachelor of Education (B.Ed.).
Thandiyal Selvam - an aerospace engineer
T. Thandiyalselvam - The second among three siblings, Thandiyalselvam had a difficult childhood. Unpredictability of agricultural income forced his parents, both small farmers to become daily wage labourers. Thandiyalselvam got selected for Aspire Foundation's scholarship program in Class 11 and joined a good private school in Dindigul. His logical reasoning skills and understanding of science concepts are remarkable. He completed B.E. (Aeronautical Engineering) at MEPCO, Sivakasi and is currently working.
Maheswari - an aspiring business woman
M. Maheswari - Maheswari from Pudupatti joined Aspire Foundation's scholarship program as a Class 11 student. Her father is a daily wage labourer in a ration shop and her mother a homemaker. Maheswari's older brother, Selvamurugan pursued a diploma in Electrical Engineering after Class 10 and now works. Maheswari excelled in sessions involving presentation and group discussion. Maheswari says, "I have an edge over my peers in college, thanks to the Spoken English and computer classes I attended at Aspire. The field trips to biscuit factories and dairy units helped me understand real life facts." Maheswari completed BBA and is currently doing Master of Business Administration (MBA).
Arunkumar - an energetic engineer
S. Arunkumar – An extrovert with interest in athletics, Arunkumar is the oldest among 2 sons. His father earns some meagre income from dairy farming and his mother is a homemaker. Arunkumar participated with zest in all of Aspire Foundation's programs. He especially enjoyed science workshops where he would ask the maximum number of questions. He says "I cherish my memories of the Mysore – Bangalore tour, which was the first time I ever travelled by train. I also enjoyed the equality in treatment given to boys & girls by Aspire staff." Arunkumar has completed B.E. and is working in a mining concern in Manipur.